Success Story of a Kenyan Patient who Recovered from Parkinson's Disease after Neurosurgery in India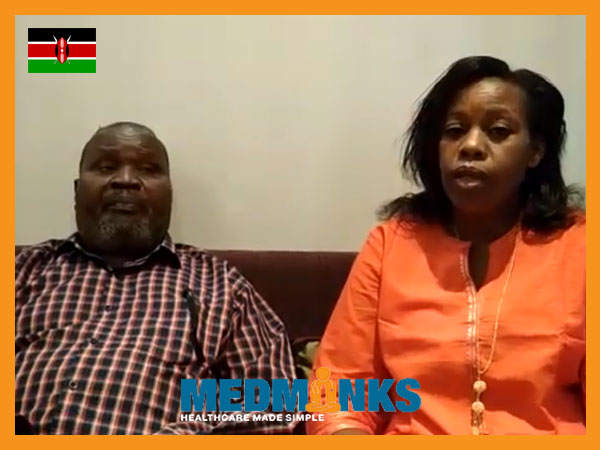 Patient Name: William Murre Meshesh
Country: Kenya
Condition: Parkinson's Disease
Treatment: Neurosurgery
Travel Assistance Provider: Medmonks
Hospital: BLK Super Speciality Hospital, New Delhi
Doctor: Dr Anil Kumar Kansal │ Director & HOD of Neurosurgery Department
William Murre, a middle-aged man, from Kenya had been suffering from Parkinson's Disease for more than five years, but his condition remained unidentified because he didn't receive medical attention on time.
What started as small tremors turned into a life-threatening condition, causing him to become completely dependent on his family. It became a challenge for him to walk a few steps without support.
When, Tressie, William's wife, who accompanied him to India, got in touch with our team, he was barely to walk. He had lost control of his motions and required immediate medical attention.
We have to praise the courage, strength of Tressie, who supported him throughout the journey, acting as his spine, making sure that he recovers.
Tressie discussed William's condition with us "He experienced a problem of tremors five years ago, and we could not really identify the problem until we visited a neurologist in Kenya, who told us that my husband has Parkinson's disease. So, in the sixth year, that is this year 2019. We came to India, through a company called Medmonks, that took us to BLK Hospital. At the hospital, we met Dr Anil Kansal, the neurologist who performed the operation."
She then started comparing William's condition before the surgery, "he couldn't walk properly, he could barely take a few steps, his body stayed bent on the right side, he couldn't hold anything with his hands. He was so weak; he used to be very sad all the time; he couldn't sit at home, or go anywhere. He couldn't even sleep." It was a very rough time in my family's life, but everything is good now.
"At BLK, his treatment was done within a week, and after the treatment, William can walk, stand, sit. He also doesn't forget things now. And I thank all the staff at the BLK hospital for giving me my old William back" She added further.
His case was managed by Dr Anil Kumar Kansal, who is the director and Head of Neurosurgery Department at BLK Super Speciality Hospital in New Delhi.
And here is what Dr Anil Kumar had to say about his case, "William suffered from Parkinson's disease. In this disease, the patient experience tremors in their hand, and find it difficult to walk, because of the slowness in the body, and due to this, the patient gradually becomes bedded. He can't do anything alone. They become completely dependent."
"William came to us through Medmonks, who shared his records, based on which we called the family to India." After further discussion, we decided to perform deep brain stimulation surgery on the patient. "The operation took around 14 hours complete, and the patient showed drastic improvement in 48 hours. The patient is now able to walk and use his hand properly" added Dr Kansal.
Watch William improvement post – surgery.
Watch this video to learn more about Deep Brain Stimulation Surgery.
Leave a Comment