Bangladeshi Patient Undergoes Successful Fibroids Surgery in India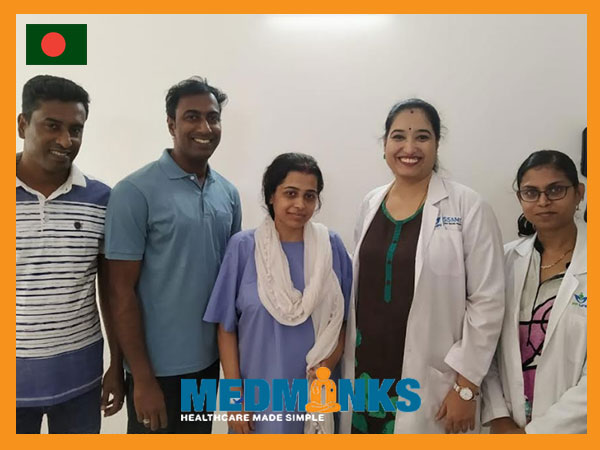 Patient- Priyanka
Country – Bangladesh
Treatment- Fibroids surgery
Doctor- Dr Manjula Patil and Dr Preeti (Gynecologists)
Hospital- BR Life - SSNMC Hospital, Bangalore
Priyanka from Bangladesh was found with fibroids in her uterus and suffered immeasurable abdominal pain and heavy periods due to them. She visited many doctors in Bangladesh, but nobody could give her with the right treatment. She went through multiple diagnoses but was never satisfied because her condition never improved. The doctors she visited in Bangladesh were unable to detect the right number of fibroids present in her uterus. They diagnosed that there were only one or two of them. Bangladesh is counted in one of the countries with the poorest medical and healthcare facilities. The country is barely equipped with any technology that could serve helpful for the appropriate treatment of the many medical issues that the people over there, face. It was only after Priyanka sought the help of Medmonks and got in touch with Dr Manjula Patil and Dr Preeti, that she came to know that there were 21 fibroids present in her uterus.
Priyanka was very lean and was in excruciating pain and trouble (which are usually the symptoms of this situation) when she came to Medmonks. The multilingual team of Medmonks helped Priyanka. Apabrita, who is fluent in Bangla, Hindi and English coordinated with her throughout. She helped her to get in touch with the most respected and suitable gynaecologist to diagnose her medical condition. Dr Manjula Patil and Dr Preeti from BR Life - SSNMC Hospital, Bangalore are very proficient and experiencd gynaecologists who handled the case of Priyanka, with utmost care and attention.
Priyanka stayed in Bangalore for almost 15-20 days, and Medmonks arranged everything to make her feel at home. They took care of travel, stay, pickups and drops and a lot of other things. Priyanka came to India in a very bad condition and was therefore given immediate treatment at the hospital after she was run for a few tests to diagnose the details of her condition. Not only this but Medmonks also helped Priyanka and her husband to avail a significant discount for their treatment.
Priyanka went through a surgery at the BR Life hospital, to remove these fibroids and was fully cured. She went home with good health and absolutely no pain. She was extremely thankful for the treatment and services that were provided by the hospital and Medmonks.
"Dr Apabrita and Nidhi(co-ordinator) are very sincere and helpful. We are grateful to them for their cordial support. Medical team of the hospital is very good, and we are 100% happy. Especially Dr Manjula Patil and Dr Preeti, they are very skilled for gynaecology! I highly Recommend them," said Priyanka.
Leave a Comment